It was whilst making a Radio programme for BBC Radio 4 back in 2004 called Chasing Hares that I made the acquaintance of the Devon Three Hares symbol and the links to the Dunhuang caves in China. Links had already been made in the 1950s between European Three Hares and much earlier Three Hares found in Dunhuang by a Lithuanian art historian living in Paris called Jurgis Baltrušaitis.7 Baltrušaitis (1903–1988) was an interesting man. He was born in Moscow and his father was a diplomat. One of his first teachers was a poet called Boris Pasternak who later wrote Doctor Zhivago. Between 1933 and 1939 Baltrušaitis taught art history at the University of Kaunas in Lithuania, as well as lecturing at the Sorbonne in Paris and at the Warburg Institute in London. He came to know about Dunhuang through the Musée Guimet and the work of the French Sinologist Paul Pelliot and the archaeologists Joseph and Ria Hackin. In the 1930s much information had been brought back about the Buddhist caves in Central Asia both material and manuscripts along with the collections of Marc Aurel Stein and Albert von Le Coq.
For many years the Three Hares symbol was assumed to be merely local to England. But there was no inkling of the eastern connection, or indeed any connection to places outside a few parishes in Devon. The Three Hares can be found mostly on the edge of Dartmoor: Chagford, North Bovey, Throwleigh, South Tawton, Kelly and Spreyton to name but a few. As well as Tavistock, where I myself had grown up. So I had a personal interest in the quest. One of my good friends I went to school with in Tavistock was called Oliver Kelly. He lived in Kelly House opposite the church in the village of Kelly. His family had been there for at least nine hundred years, since the Norman Conquest, and no doubt knew a thing or two about hares. They probably commissioned the Three Hares carving in the first place. Kelly church has two Three Hare carvings. One old, one new.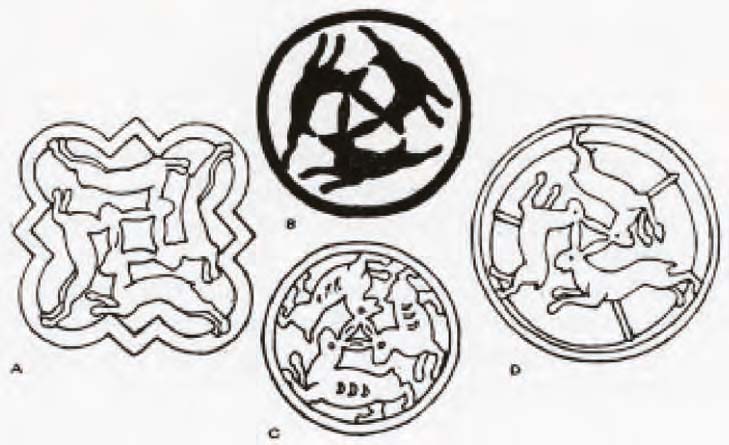 These are illustrations from La Moyen Age Fantastique, 1955, by Jurgis Baltrušaitis showing the similarity between three and four hares from: (a) Lyon in France,1310–1320; (b) Dunhuang, China, 10th century; (c) Islamic Vase Hermitage, St Petersburgm Russia 12-13th century; (d) Paderborn 15th Century.

The link with Devon Hares to Dunhuang was first realised in 1989 by Tom Greeves and Chris Chapman in Throwleigh church when talking to the artist Trevor Felcey who just happened to live in the Church house at Throwleigh not a stone's throw away from the church itself.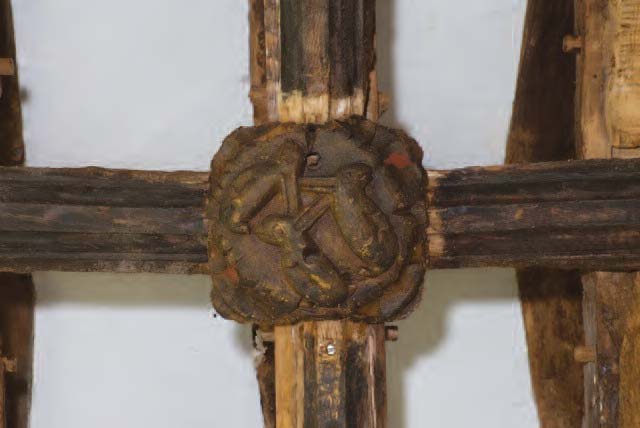 Three hares inside Kelly Church, West Devon c. 1500. Photo © George Wright.
My own contribution to the Three Hare's quest was to present and record a BBC Radio 4 programme called Chasing Hares which was produced by Grant Sonnex, a wonderful man to work with. This was about a journey across Europe which was broadcast in 2004 and again in 2005. This was a radio programme on a vast scale that stretched halfway round the world from Devon to China via Europe the Middle East and Ladakh – a real historical mystery set in time and space. Slowly joining up the dots one by one.
The fact that the programme was made for the BBC Natural History Unit was appropriate. Hares are living creatures and they have erratic, mysterious behaviour and are legendary in their own right. It is the true magic of radio to make images come alive, albeit images of three mythical hares which would soon be revolving round and round on the air waves. So I accompanied the three researchers, Tom Greeves, Chris Chapman and Sue Andrew, who were metaphorically joined at the ears. I knew deep down that from the moment we set off for Europe it would be great fun as well as a real voyage into the unknown.
We visited Trier Cathedral in the Moselle valley, Kloster Haina in the centre of Germany and Wissembourg on the French German border.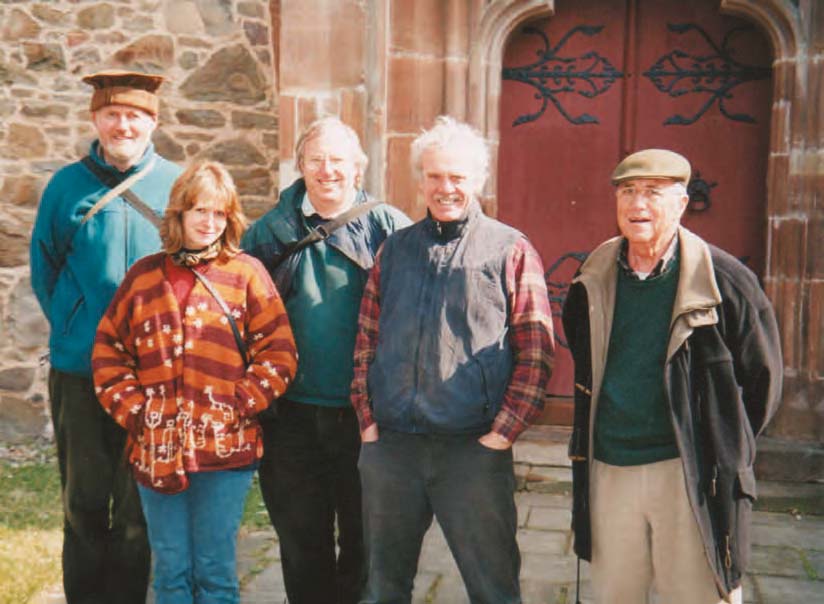 Kloster Haina, Germany: Tom Greeves, Sue Andrew, James Crowden, Chris Chapman, Wilhelm Helbig. Photo © Manfred Scholz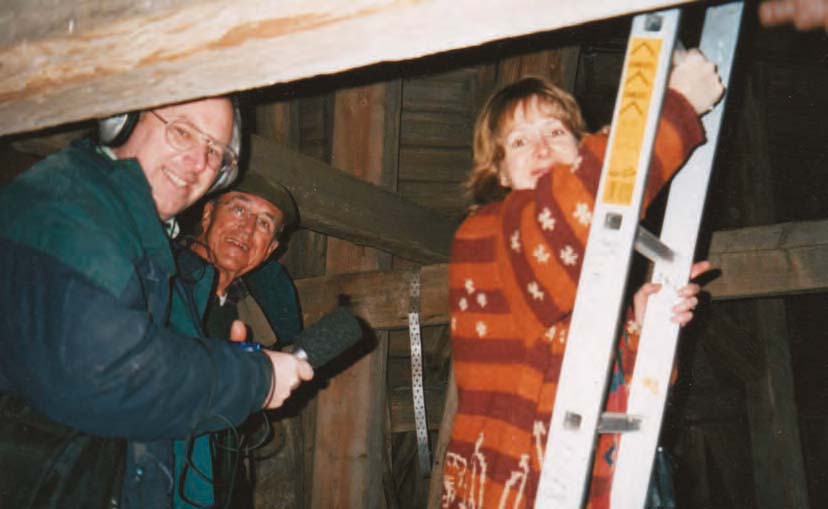 Recording in Klosta Haina 2004 with Sue Andrew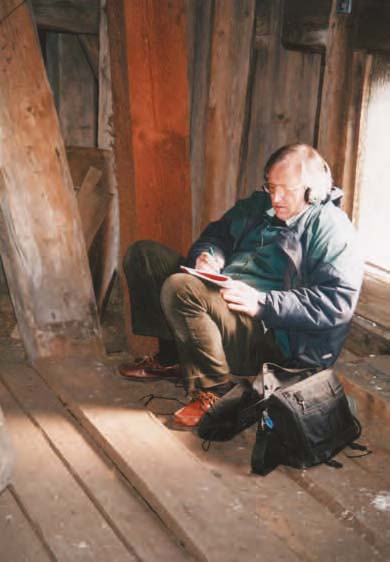 James listening back to his recordings
The symbol of the Three Hares was intriguing in its symmetrical simplicity running round and round forever in a sacred, endless circle. Was this just coincidence or was it something much more universal?Where did the trail start and where did it go? Did it have a beginning and an end? There were many locations to visit. Suffice it to say the journey took the three others to Dunhuang and myself to Ladakh as well as a Maharajah's pleasure palace in Rajasthan which boasted two sets of four hares.
Chasing Hares was a great success and was repeated several times and heard by hundreds of thousands, if not millions of people, all over the world. But where does it all lead? For me at least there was a distinctly Buddhist answer to the meaning which emerged, and this can be found in the essay 10 on Ladakh. But often each culture has its own explanations and in some cases, none at all.
Coming back closer to home there is perhaps a Devon answer to part of the mystery. Dartmouth, where I had first gone to school, was the point of departure for the Crusades of 1147 and 1190, which brought knights of Devon into contact with the Middle East, Saladin and the textiles from the Central Asia. The Greek and Byzantine world rubbed shoulders with the Islamic world which included Persia and Afghanistan. Returning crusaders may well have brought silken textiles and stories back with them and incorporated the Three Hares symbol into churches in a Christian context. If they could come back with St George, who had nothing to do with England, then anything was possible, so long as it gave you confidence and belief in an innate wisdom.
Wisdom comes in many shapes and forms and in the very centre between the conjoined ears of the three hares lies a space akin to emptiness or should it be a question mark? The story of the Three Hares has many twists and turns and as it unfolds the hares continue to gyrate in the heavens. The quest is of course by its very nature never ending.
One fascinating item that links the Three Hares firmly back in the Middle East/Persia/modern day Iran is this silver bowl which came up for auction at Christies in 1998 and is now in the Al Sabah collection in Kuwait.8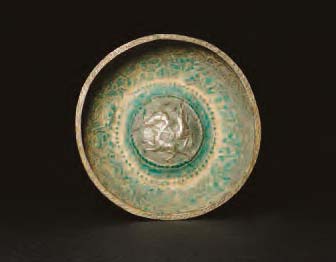 This small silver bowl, is worked in repoussé style and is attributed to the 14th century Iranian world. It is interesting that the motif of hares sharing ears was still used during this period – most other examples are from a much earlier period. The hares in the art of the Islamic world on trays/dishes are very similar to the Ugarit dish. All face forwards and their ears taper. What is really interesting about the Ugarit dish is that one end of the horn is hidden behind the ear of the next creature thus overcoming the problem of how to depict the horn joining the head of the next beast.
This shows very clearly the extraordinary continuity of design of the bowl/patera and the conjoined horns/ears over 3,000 years! ie from ibex to hares. Viva the hare. Quite a song and dance over the years…