12
Nagaur – Fort of the Hooded Cobra
The survival of the two Rajput-Moghul four hare / rabbit paintings within an old rambling castle in Nagaur, in the middle of Rajasthan is remarkable. Nagaur is an ancient trading town roughly midway between the cities of Jodhpur and Bikaner, but it is now something of a backwater. To the west lies the Thar desert and the city of Jaisalmer. In the past, this part of Rajasthan was referred to as Jangladesh. Nagaur is even mentioned in the Mahabharata and is also a centre for Sufis. Every February there is a famous camel fair where around one hundred thousand camels and cattle are sold. The rabbits/hares are again outnumbered.
In the centre of Nagaur lies the 'Fort of the Hooded Cobra', also known as Ahhichatragarh. The palaces within the fort have Moghul influences but exhibit a later Hindu/Rajput style. There are four highly decorated palaces: the Hadi Rani Mahal, Abha Mahal, Bakht Singh Mahal and Sheesh Mahal. There were also many gardens and fine water features. The inner compound extends over thirty-six acres and is confined behind a long array of fortified walls and towers, many of which were crumbling when I saw them in 2005.
Most of the paintings on the walls and ceilings were from the time of Maharajah Bakht Singh, who reigned from 1725 to 1751. Bakhat Singh was an intrepid warrior, poet and a great supporter of the arts. Bakhat Singh loved women and the murals are a testimony to his love of worldly pleasures. He succeeded to the throne as Maharajah of Jodhpur in 1751 but a year later at the tender age of forty-four he was poisoned by a vengeful niece. Some say it was cholera. Whatever the mode of his death Maharajah Bakht Singh established a rich and lavish Hindu court at Nagaur and for over twenty-five years he hired some of the best painters in the land. They may have sought refuge after the sack of Delhi by Nadir Shah in 1739.36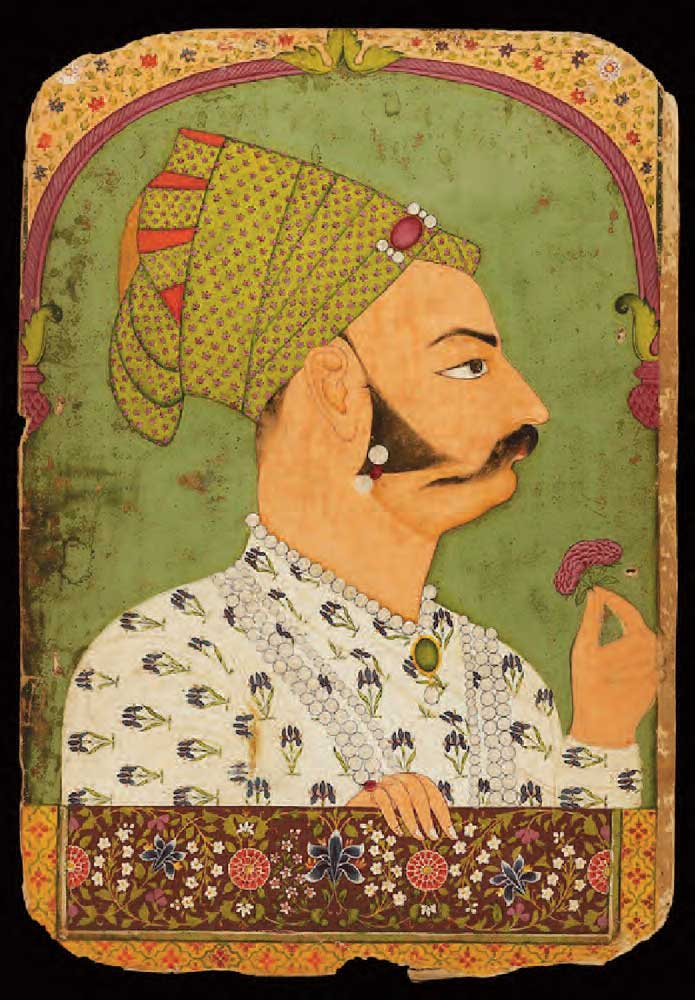 LI118.36 Portrait of Bakhat Singh, Maharaja of Jodhpur. On loan from Howard Hodgkin. Image © Ashmolean Museum, University of Oxford.
The murals, although in need of conservation, are among the finest examples of Rajput-Mughal art in Rajasthan. The wall paintings are breathtaking and display many scenes from courtly life within the women's quarters and thus provide an intimate portrait of royal life in Nagaur in the 18th century.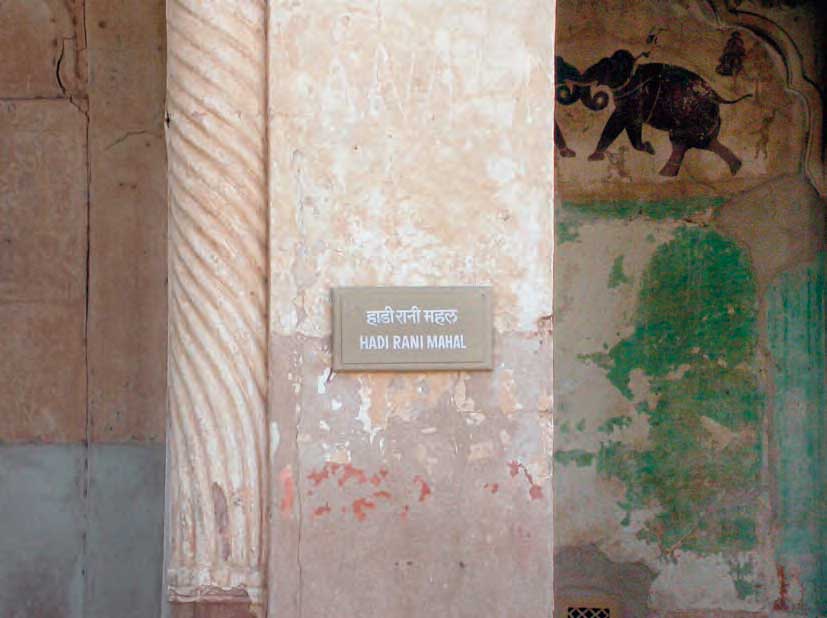 Entrance to Hadi Rani Mahal, Nagaur, Rajasthan showing elephants fighting, (top right). Photo: Carol Trewin
Within the Royal compound at Nagaur Fort the four hare/rabbit symbols occur in two locations. The first four rabbit roundel is to be found on the ceiling of a loggia belonging to the Hadi Rani Mahal which was the queen's palace, the zenana, and second is to be found in the Abha Mahal, a pleasure palace connected to the Hadi Rani Mahal by a long colonnade and is adjacent to a large swimming pool.