14
Four Hares in the Abha Mahal
Nagaur, c1850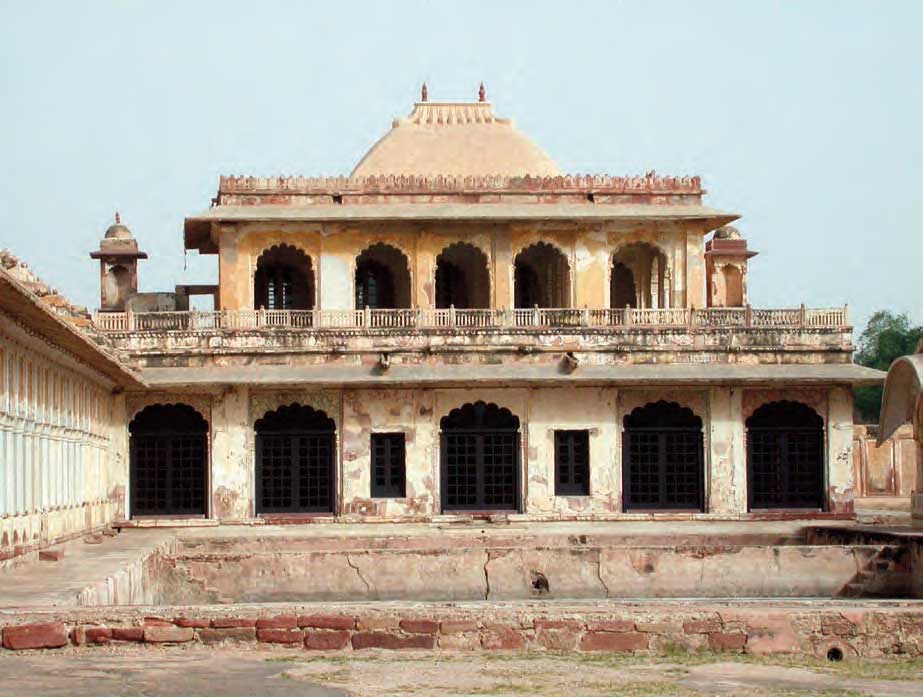 Abha Mahal, Nagaur, Rajasthan. Photo: Carol Trewin 2005
Inside this palace lies the second hare/rabbit roundel. In the fore-ground is the Queen's swimming pool. The Abha Mahal has since been restored. The colonnade on the left connects to the Queen's palace, the Hadi Rani Mahal. So the rabbits are in prime royal locations. Some of the finest Rajput/Moghul murals in all of Marwar.40
The hares/rabbits are on a mauve background and are thought to date from about 1850. The rabbits are similar to those in the Hadi Rani Mahal – they look slightly more bemused and humorous, but then they are 100 years younger. They too are running in clockwise direction. The surround however is totally different: still a roundel in a ceiling, but there are eight tulips, roses or possibly opium poppies? Production of opium was and still is a major Marwar industry.
These apsaras are very different in style and many are carrying musical instruments. There is a marked Portuguese feel to these paintings; Portuguese artists were known to have visited the court of Akbar and the Indian painters even adopted some of the European styles. Indeed there is a style of painting called Indian baroque. Ideas went backwards and forwards between India and Portugal, particularly in the way in which angels were depicted. Roses or pomegranates? Roses more likely…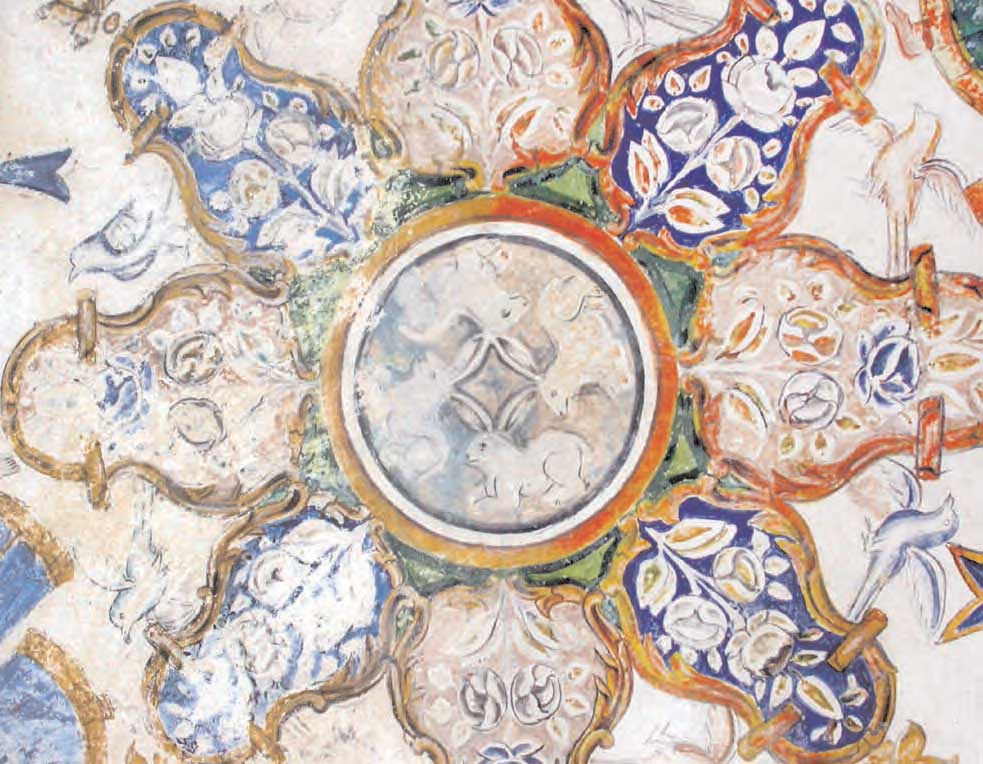 Four Hares, Abha Mahal, Nagaur, Rajasthan, c1850 Photo: Carol Trewin
The surround is reminiscent of the eight petals of a lotus so beloved of Buddhist and Hindu painters. There are song birds, parakeets, petals and seeds – Heaven indeed. The Portuguese feel may well be as a result of the Portuguese artistic influence in Moghul courts during the reigns of Akbar and Jehangir. (See 11 Three Moghul Hares)
It seems that pleasure was at the centre of it all in Nagaur which is probably what Maharajah Bakht Singh intended all along. But which way was the three/four hare/rabbit symbol travelling – East or West? Here there were Sufis, camels, full moons and luxurious evenings. Emperors, monks and Maharajahs, Jesuit priests, hares and rabbits as well as scantily clad dancing girls: Northern India has them all. And it is pleasure which is central to these palaces. A point backed up by none other than William Dalrymple: 'The paintings Bakhat Singh commissioned show sensuousness almost unknown in Mughal or earlier Rajput painting'. So Nagaur paintings and Nagaur rabbits/hares are very important indeed. The erotic and tantric element cannot be ignored even in Rajasthan. Bunny girls have a long and noble tradition. Three or Four take your pick. Watch out for the full moon in Rajasthan.