8
The Great Chorten Alchi Three and Four Hares
The Sumtsek and not the only temple at Alchi. It is part of a much larger monastic complex surrounded by a wall and it is inside the Great Chorten or Stupa that three and four hares can also be seen. They are connected by what looks to be a kind of Greek key pattern which has the swastika as its central repeating pattern. In other words the four rivers are flowing from Mount Kailash in Tibet. So the Indus is symbolically connected to Mount Kailash, Shiva's mountain. When on pilgrimage The Tibetans go round Kailash clockwise, the Bon anticlockwise.23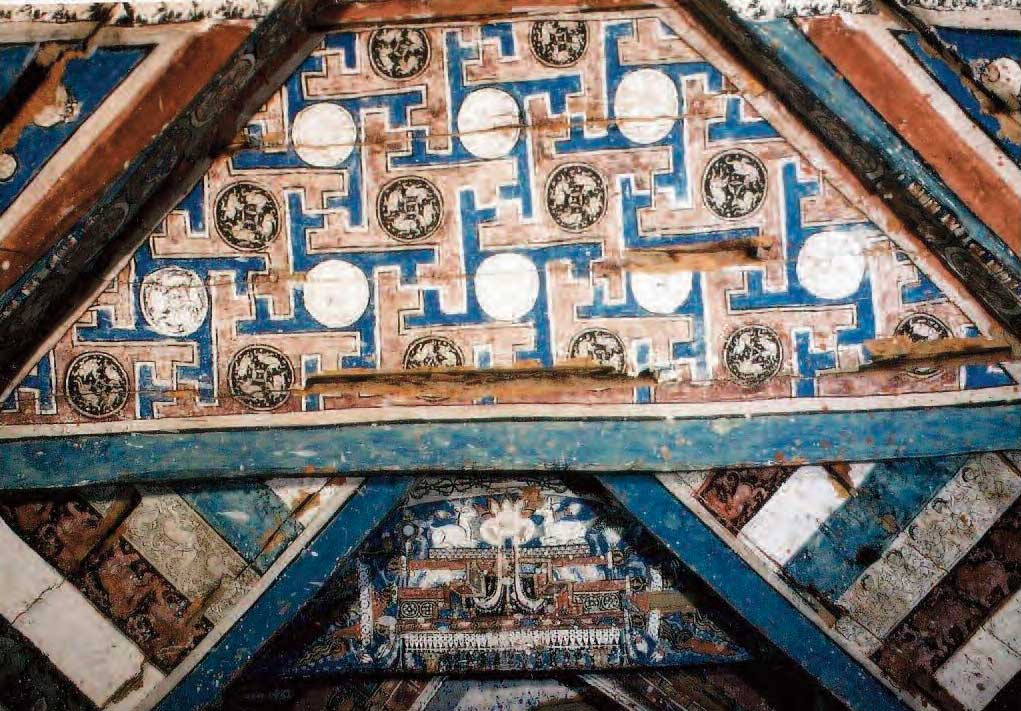 Inside the Great Stupa at Alchi. The swastika is clearly seen as are the three and four hare motifs as well as the two Sarnath deer and surrounding vajra motif below. c1220AD © Jaroslav Poncar
The repeat occurrence of the swastika is important as it relates to the very real geography. Bon practitioners, the pre-Buddhist believers call Mount Kailash, the nine-story Swastika Mountain and regard it as the seat of all spiritual power. In the Zoroastrian religion of Persia, the swastika was a symbol of the revolving sun, infinity, or continuing creation. Kailash is seen as the centre of the world and the four rivers as arms of the Swastika.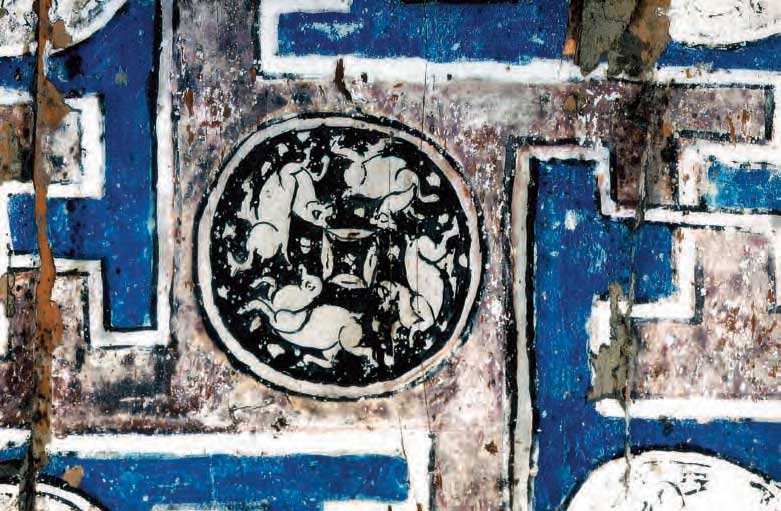 Inside the Great Stupa at Alchi. The swastika is clearly seen as are the three and four hare motifs as well as the two Sarnath deer and surrounding vajra motif below. c1220AD © Jaroslav Poncar
These do indeed look more like hares than deer, regarding their ears and paws. The Four Hare symbol occurs many times on the underside of the lantern roof. This looks like a textile with a repeating pattern. Here the hares are on their own and there are many instances of the hares which occur in roundels. To have the three and four hares associated with a swastika symbol is interesting. Around Mount Kailash, woolly Tibetan hares are very common in the rich plateau grasslands grazed by the nomads.
In the Great Chorten at Alchi these gyrating animals certainly look more like hares. They have greater freedom of movement and are slightly more athletic. Most are Four Hares but some are Three Hares – the Three Jewels and the Four Noble Truths, which makes perfect Buddhist sense. The Great Chorten was built in the early 13th century not long after the three main temples were completed.